Dear Friends of UVM Mathematics & Statistics,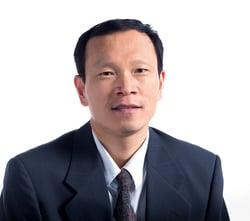 I hope this note finds you well. It has been an exciting year in the Department of Mathematics and Statistics! Senior Lecturer Rosi Rosebush received the 2022 George Kidder Outstanding Faculty Award from the UVM Foundation; Professor Chris Danforth received the 2022 Kroepsch-Maurice Excellence in Teaching Award; and Senior Lecturer Karen Benway received the 2022 President's Distinguished Senior Lecturer Award! These outstanding faculty continue a proud tradition of excellence in our Department.
Check out the new link at our website that lists these and other major awards won by our faculty, past and present. These impressive awards are an important part of our Department's history.
As we emerged out of the pandemic, things slowly got back to normal. Classes are in-person again, and masking is now optional. The upside of the pandemic is that our faculty have become much more fluent with online instruction. They now post much more course-related material (such as notes and lecture videos) for students than before. And we are all more comfortable with online meetings. Many of these changes are here to stay.
We have also made progress on other fronts. We set up a new Graduate Student Summer Support Fund, to support our Graduate Teaching Assistants (GTA) to do research in the summer. We also implemented a First-Year GTA Mentoring Program, where our new GTAs are paired with a faculty mentor for their first semester of teaching. We are also offering scholarships to our strong MS applicants to make their coming to UVM more accessible.
I'm thrilled to announce that we are searching for a new tenure track faculty member and a new lecturer in mathematics as we celebrate the retirement of Susan Ojala and upcoming retirement of Karla Karstens. We are also searching for two tenure track faculty in Statistics.
In the past year, Kiki Reno and Barbara Asiimwe left the Department, and we hired a new admin, Emily Cummings, in October. Emily is quickly settling in and learning all the day-to-day tasks that keep the Department running.
This newsletter will share more of the successes of our faculty, students, and alumni in teaching, research, and service.
I hope you enjoy this newsletter. Please keep us updated with your own exciting news (you can write to me, jxyang@uvm.edu, or to the Department admin Emily Cummings, Emily.Cummings@uvm.edu).
Warm regards,
Jianke Yang
Professor & Chair, Department of Mathematics and Statistics