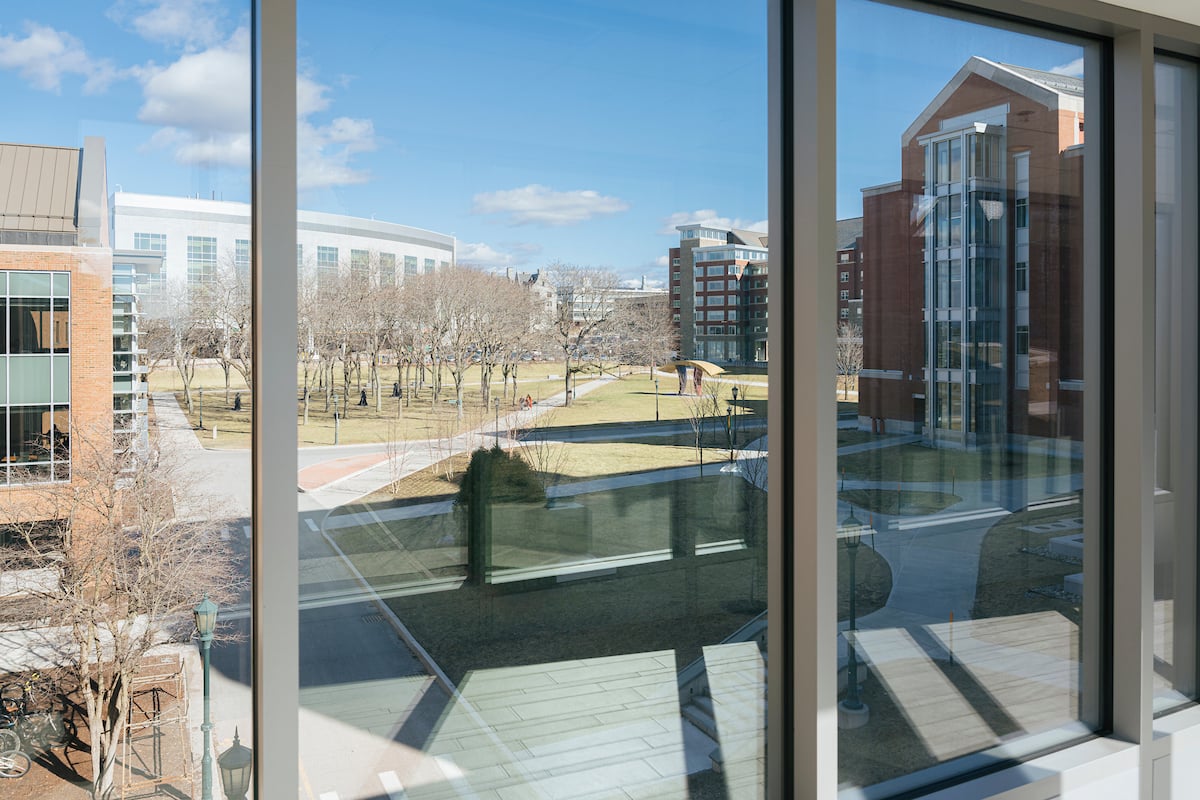 image courtesy Bailey J. Beltramo
UVM CEMS Quarterly Update: Spring 2022
CEMS Students Win Big at ENGCOMM

UVM undergrads Will Jeffries, Connor McCormack, Joe Consorti, and Olivia Mead impressed an international panel of judges by how well they brought together their skills in engineering and business—and made a true team. taking first prize in the international Engineering and Commerce Case Competition, ENGCOMM, competing against other undergraduate teams from around the world. The UVM team performed exceptionally well, winning in the following categories: 1st place overall, Best International Team, Best Business Solution, Best Engineering Solution, Best Team Chemistry, Best Presenter: Joe Consorti.
Faculty Research

The 25 Happiest U.S. City Park Systems, Ranked by Scientists

"Being in nature offers restorative benefits not available for purchase in a store, or downloadable on a screen," says UVM's Chris Danforth, a Mathematics professor and Gund Fellow. This study brought together multiple UVM research groups, including the Gund Institute for Environment, Vermont Advanced Computing Center, The Spatial Analysis Lab, the MassMutual Center of Excellence in Complex Systems and Data Science, and the Hedonometer, in an effort to measure global happiness using Twitter.

---

Putting People Into Climate Models

Scientist Brian Beckage is part of a team that published a study in the journal Nature suggesting that as the planet gets hotter, our climate policies will increase in ambition and efforts to reduce greenhouse gas emissions will accelerate. "We can't forget the human capacity to react and adapt," he says. "We're part of the climate system and our models should take that into account." a professor with joint appointments in the Department of Plant Biology and Computer Science, as well as a fellow in the Gund Institute for Environment.

---

New Survey Findings Released from Innovative Prison Research Project

The University of Vermont, the Vermont Department of Corrections, and the Urban Institute have released initial findings from the first phase of the Prison Research and Innovation Network (PRIN) in Vermont, one of five states participating in the five-year effort (with support from Arnold Ventures) to build evidence and spur innovation to make prisons more humane, safe, and rehabilitative. Mathematics and Statistics Research Assistant Professor Abigail Crocker is a lead on the project.
Faculty Spotlights

Congratulations to Electrical Engineering's Jeff Frolik, who has been selected as a Fulbright U.S. Scholar for 2022-2023. Fulbright Scholar Awards are prestigious and competitive fellowships that provide unique opportunities for scholars to teach and conduct research abroad. Fulbright scholars also play a critical role in U.S. public diplomacy, establishing long-term relationships between people and nations. Alumni include 61 Nobel Laureates, 89 Pulitzer Prize winners, 76 MacArthur Fellows, and thousands of leaders and world-renowned experts in academia and many other fields across the private, public, and non-profit sectors.

---

UVM Artist Uses Research and AI to Create

Jenn Karson, a lecturer in the Department of Art and Art History and the director of UVM's FabLab, continued that trend of breaking norms and dismantling dichotomies with her recent show, Liquid Architectures + Leaky Territories, an exploration at the crossroads between art and artificial intelligence.

---

Gregory Rowangould, the director of the Transportation Research Center at the University of Vermont and associate professor in Civil and Environmental Engineering, spoke with The Guardian about U.S. automobile dependence and inequity in transportation costs.

---

UVM Assistant Math Professor Christelle Vincent says even though it goes on and on, people who study pi haven't found that it favors one digit or a number as it's calculated. "It's transcendent," she says, in this video clip from WCAX.
College of Engineering and Mathematical Sciences
109 Votey Hall 33 Colchester Avenue
Burlington, VT 05405-0156
You received this email because you are subscribed to Program Information from College of Engineering and Mathematical Sciences.
Update your email preferences to choose the types of emails you receive. Unsubscribe from all future emails