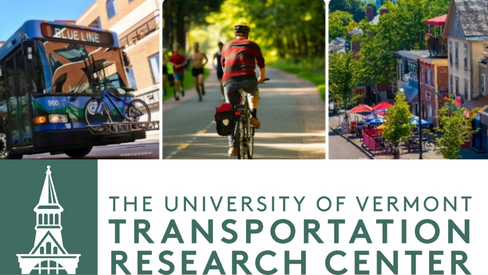 TRC faculty join an interdisciplinary team to develop new tools to help communities manage renewable energy generation in Vermont with a $4.3 million DOE grant to UVM.
This project aims to evaluate energy demand and use through the lens of an energyshed, similar in concept to a watershed. The UVM team will collect data from three distinct rural areas of Vermont and develop new models and tools that allow local decision makers and residents to understand the economic, health, environmental, and other impacts of local energy decisions. TRC faculty will contribute by collecting data on and modeling transportation system energy demands, focusing on the growing number of electric vehicles and how they are used in smaller and rural communities. After refining the models in Vermont, the UVM team plans to make these tools available for use across the country.
Upcoming TRB Annual Meeting and First year MS student Clare Nelson presents at the inaugural Chittenden Area Transportation Management Association (CATMA) Summit
TRC will once again make a big impression at the upcoming Transportation Research Board Annual Meeting. TRC faculty, staff, and students will present in over 15 sessions, with topics ranging from rural transportation to accessibility and urban heat to winter maintenance.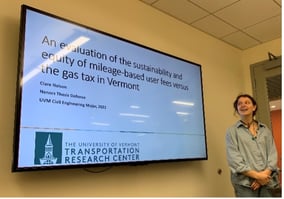 First year TRC student Clare Nelson'22 and her Advisor Prof. Greg Rowangould presented their research on replacing Vermont's gas tax with a milage-based user fee and the challenges of reducing transportation GHG emissions in Vermont at the summit this fall. The summit brought together, in person, the region's transportation professionals, researchers and local and state policymakers for the first time since the beginning of the pandemic.
TRC faculty and staff contribute to two new NCHRP reports and Work on VTrans Contract
Dr. Dana Rowangould coauthored NCHRP Report 1000: Accessibility Measures in Practice: A Guide for Transportation Agencies. Dr. Glenn McRae coauthored NCHRP report 1008: Attracting, Retaining, and Developing the 2030 Transportation Workforce: Design, Construction, and Maintenance. TRC also received a $300,000 contract from the Vermont Agency of Transportation to manage and improve the statewide travel demand model. This funding will allow TRC researchers led by Jim Sullivan to update the model and improve its ability to inform critical infrastructure and climate planning and policy decisions across the state in the years to come.